The visibility of our business targets is key to achieving them. We can have as many plans as we want but if we don't act on them… the results will be haphazard.
In my consulting life, I keep stressing to clients that they need to keep their targets visible.
If they want to achieve a certain profit level, I tell them to keep it in their awareness.
If they want to deliver a new product or service, I tell them the same thing.
One of the simplest ways to keep a target in your awareness is to write it down and put it in your eyeline.
Hit it, until you hit it
When we started building PDCA Complete, this was one of the centrepieces of our thinking. A clear projects list that you can refer to, to keep the big items in your eye line. You can use the projects list at the start of review meetings and planning sessions with your senior team.
Consider the alternative. If you don't keep referring to your projects, or you don't make them visible to your wider team, what happens? For many organizations, they lose opportunities. Busyness takes over. Focus diverts and energy from the ideas ebbs away.
Visibility and accountability
Linked to the idea of visibility of your plans is that of accountability. It seems that some people just feel bad when they write down a task, with a deadline… what if they don't deliver it?
This psychological phenomena isn't something we can help with with PDCA Complete directly. Indirectly, however, we provide you with a tool that can make it normal over time. The culture in your organization can change and it can become the usual approach to write down tasks, review them and deliver them.
The assignment of tasks is the partner of the creation of projects. The project is what you want. The tasks are how you are going to get there.
How PDCA Complete helps
I have already referred to the projects list. This is the list of projects you are linked to in the business. From here you can see what is live, what is queued and review the completed list as required. A quick note here is that you won't necessarily see every project in your organization, only the ones you are linked to. You could be linked by you creating the project, participation or by staff hierarchy. Projects unrelated to you won't be shown.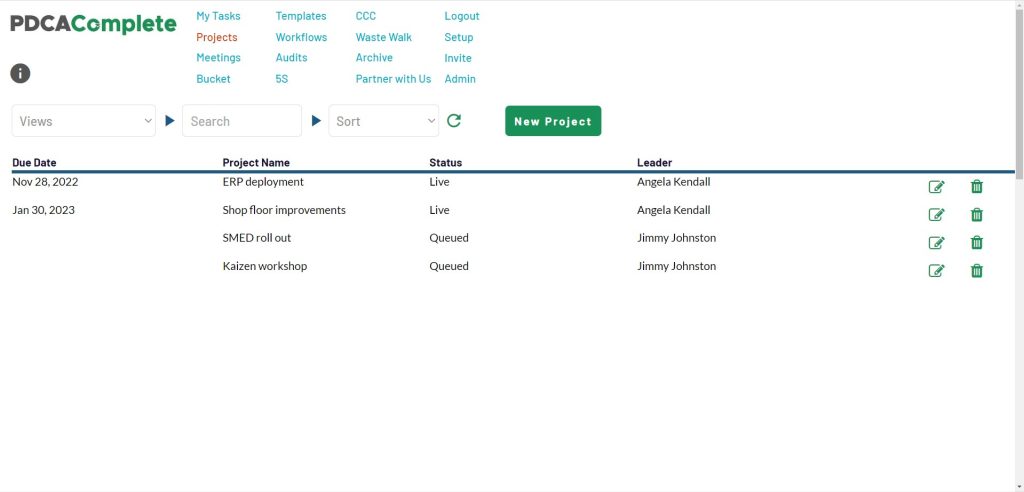 This screen allows you to see all the active projects in one place. Within the projects themselves you can create a standard meeting agenda to help keep your team on track when discussing progress. That, combined with the task filtering options, you can run through your live projects quickly and decide what further actions are required to 'hit your target'.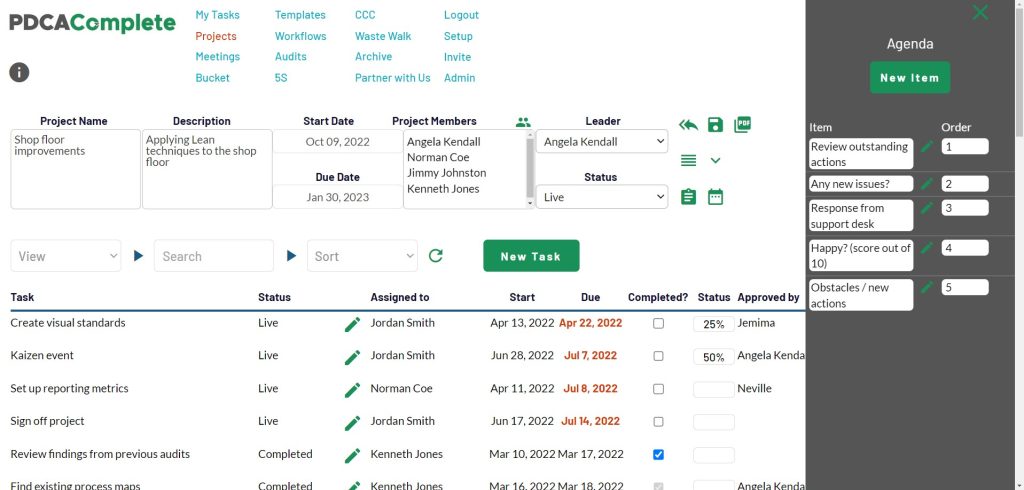 Also on the project screen is our PID (Project Initiation Document) feature. This allows you to clarify key points about your projects at the outset, so that your team hit the right target! There is nothing more frustrating for a business to watch a team arrive at their project's conclusion just to find out it is the wrong destination. The PID helps you and your teams to avoid this predicament.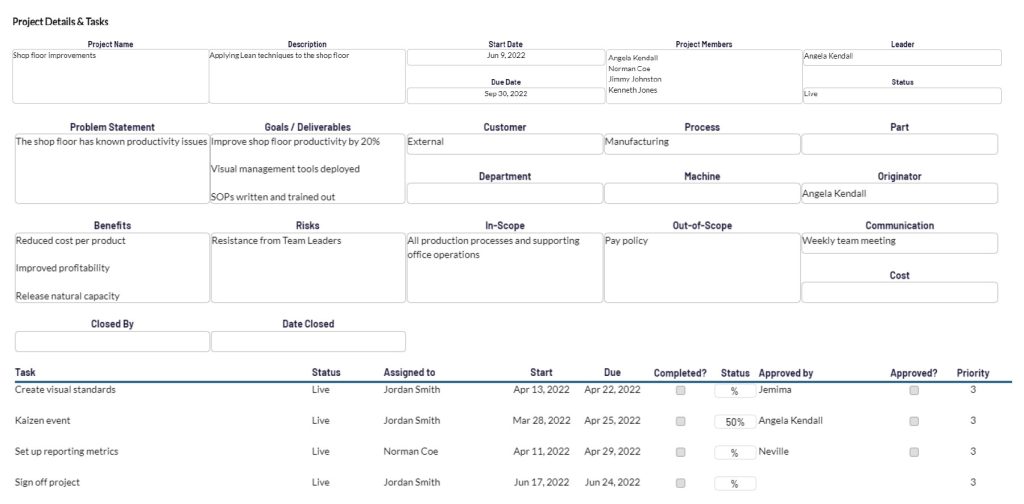 Outside of the project review meetings is the My Tasks screen. This is the nerve centre of PDCA Complete, for each individual team member. The My Tasks screen is the list of every task related to that person. Every project task, every meeting task, every audit action, every workflow action, all in one place. On the My Tasks screen you can see tasks that you need to complete, tasks that you need to approve and tasks assigned to your direct team.
We've built in filters to make this a really practical way to work. Filter by date, filter by actions for you to complete, or just look at the tasks that you need to sign off. Using the My Tasks function helps you to keep your targets in your eye line. When you complete enough of these tasks, logically, your projects come to fruition.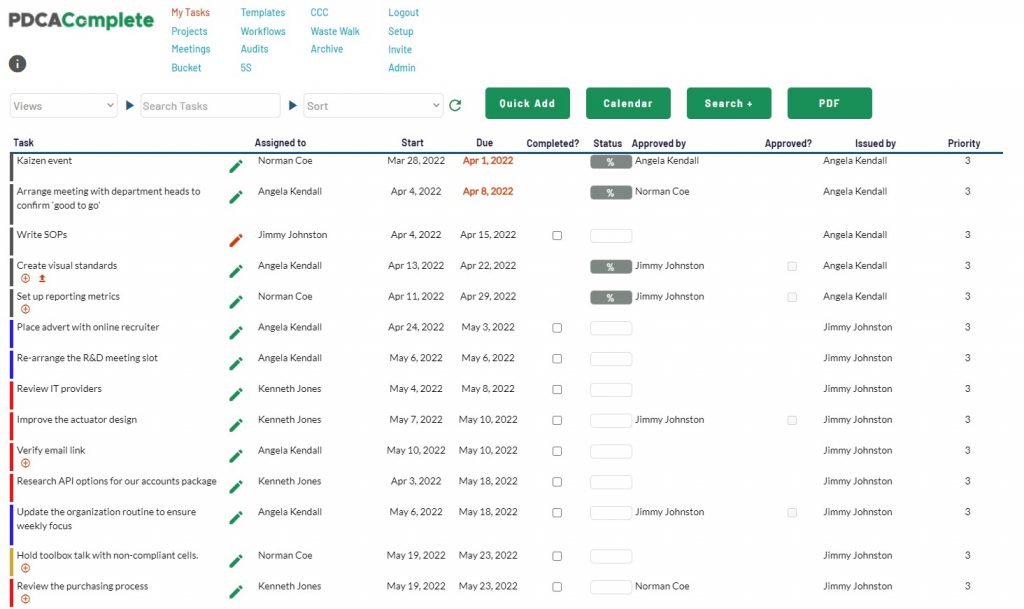 The mantra from this article
Regardless if you use PDCA Complete, or not, there are some very simple takeaways from this article:
Stop avoiding writing projects and tasks down.
Stop losing sight of your projects and tasks.
Start hitting the targets by completing your tasks.
If you want to try PDCA Complete, you can sign up for our free account. It is free for up to three users and includes all of the main features of the software. When you are ready to expand past three team members, you can join our paid subscription option. All of the details about these packages can be seen on our pricing page.
To sign up for your free account, click here.
Enjoy hitting more of your business' targets.