Continuous improvement is one of those business activities that sounds like it should be easy, right?
Many businesses burn themselves out trying to manage all of their improvements on top of their day job.
There are many ways to track and manage improvements. This article will review some of the benefits of a specialised software solution, compared to more traditional tools.
What is continuous improvement tracking software?
Simply put, continuous improvement tracking software are programs designed specifically to help you manage improvement activity. There are lots of software tools available to organizations today. Each one has their own benefits but continuous improvement software is tailored.
Specific tools can include project prioritization, meeting tracking, auditing and project scoping.
We built PDCA Complete around continuous improvement tools such as these. At the end of this article I will share with you some of these functions.
Pros and cons of traditional tracking tools
If you don't use continuous improvement tracking software it is likely that you use one of the following:
Whiteboards
Paper
Spreadsheets
Memory
The benefits of these approaches are that they are fast and cheap to set up. The major draw back is the difficulty in managing all the tasks involved using these tools and keeping everyone up to date with progress.
The last option, memory, is something that I see all too often. This is a sure-fire way to lose an opportunity through busyness taking over!
Benefits of a continuous improvement tracking software tool
You can flip some of the above items to create this list but let me add a few more benefits:
Improved visibility. All of your tasks in one place, including your teams'.
Automated progress communication. No more trying to remember if you let your stakeholders know about the progress being made.
Standard agendas to review improvement projects. Keep your team on track and focused during meetings.
Ability to view team tasks. No more guessing who is meant to be working on what.
Prioritization of projects. Harness the 80/20 law and make sure you get the best return on your efforts.
Visual indicators of progress. View progress against tasks and close down of improvement projects.
Clarity of goals. Get clear on deliverables and project scopes within the software itself.
Of course, there can be downsides to software tools. It is important that you look into the costs, learning curve and support to help you determine if the benefits outweigh the costs.
PDCA Complete's improvement tracking tools
Let me walk you through some of the features of PDCA Complete that can help you to track and manageryour continuous improvement activities.
Bucket
The Bucket is where PDCA Complete stores improvement opportunities. Using our 'BCS' scoring system this part of the system will help you to prioritize your improvements, so you get the biggest bang for your buck!
Once you are ready to launch a new improvement opportunity, use the bucket to launch the next project / meeting series / digital workflow, or trigger any other part of the PDCA Complete system.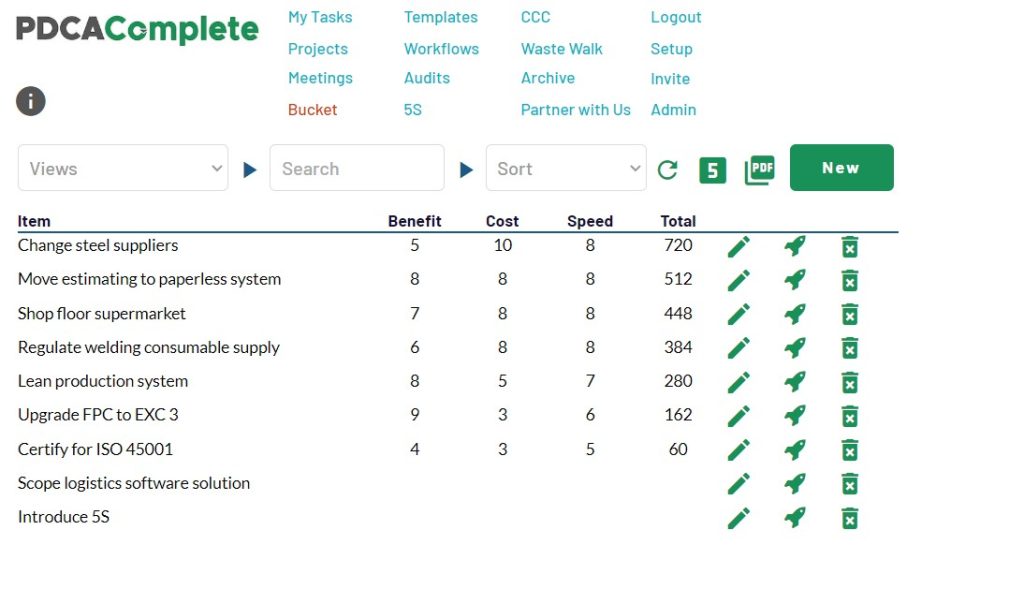 Live project list
Knowing what you are working on right now is really important, without relying on your memory. One place to see all of the projects you are involved with. This is found in the Projects module of PDCA Complete.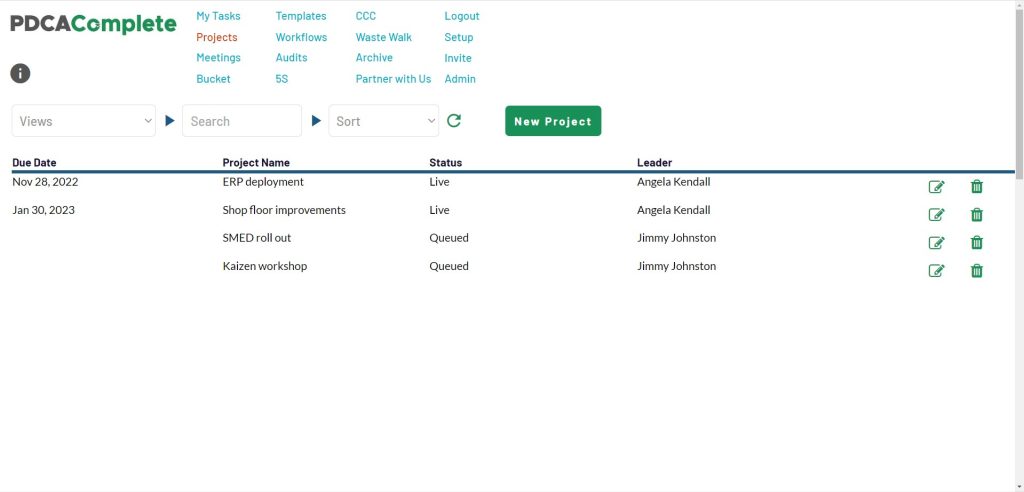 PID
A PID (Project Initiation Document) helps to clarify what you want to achieve from your continuous improvement project, making tracking later easier. Agreeing the communications, the scope and the deliverable simplifies tracking. PIDs are built into PDCA Complete's Project module.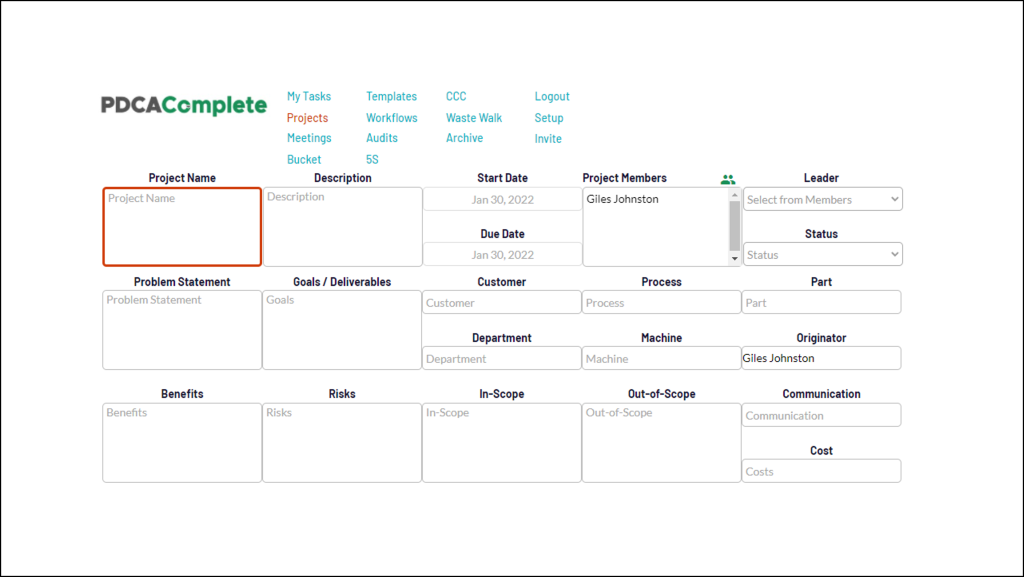 Standard meeting agendas
When it comes to reviewing where you are with your continuous improvement projects, a standard agenda can really help your team to stay on track. The standard agenda is built into the project and meetings modules and allows you to keep focused when you meet as a team.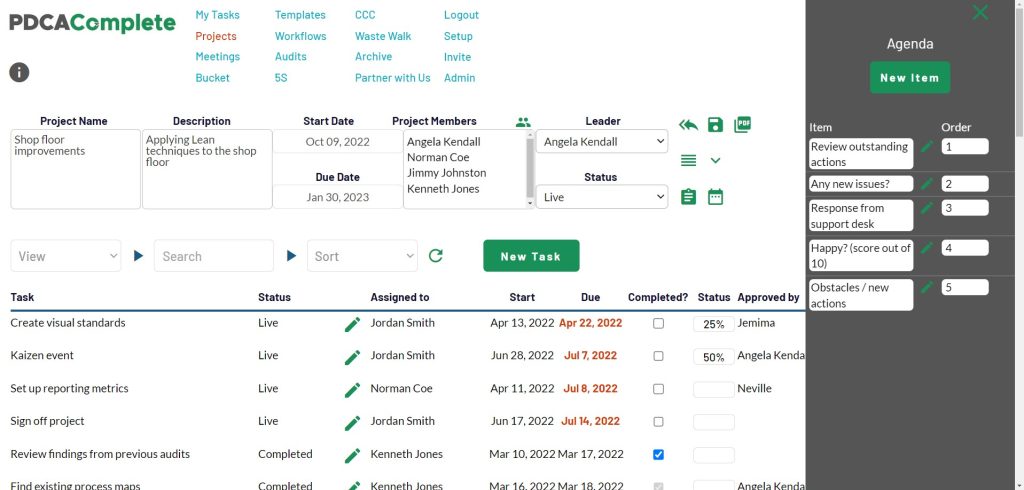 Task filters
When you review a project, or actions from a previous meeting, using the task filters helps your team to review live tasks quickly. We've left in the completed tasks, so you can review what has been completed already (and to prevent arguments about what was, or wasn't, agreed!).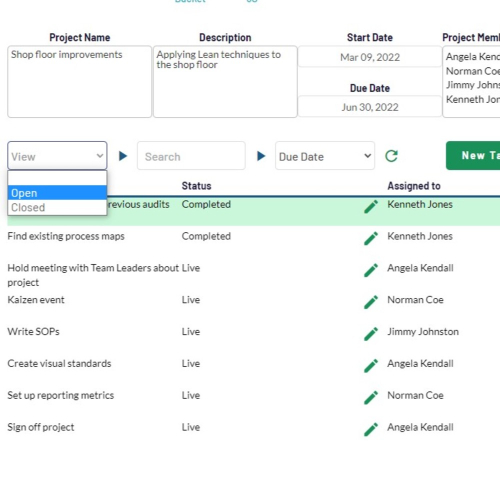 Claim your free account today
If you want to explore PDCA Complete and see what other benefits our system can provide to your business, claim your free account today.
We offer a free, lifetime, account for up to three team members. If you want to expand the head count, or access some additional features, then you can upgrade your account at any time.
You can see the difference in the subscription types on our Pricing page.
Are you ready to track your improvements?
I hope that this article has explained some of the benefits of continuous improvement tracking software and how PDCA Complete provides tools to help with this. We provide full instructions via the support pages on our website, which are also linked directly in the app itself.
If you have any questions, feel free to get in touch or organize a demo.