Continuous improvement tracking software can save your sanity, especially if you've ever had to juggle more than a few improvement projects at once.
There are lots of options out there, including PDCA Complete. This article is going to look at some of the key features we would recommend for this type of software, to help you with your research.
Easy to use
First off, you need the software to be easy to use. Accessibility is a contributor. Does the platform you are looking at have web access? Is it mobile? Is it simple to use?
If the software doesn't leap this first hurdle, cross it off your list.
Mobile screenshots from PDCA Complete
Team collaboration
If you can't work with your team on the tracking software you are reviewing, it might be short lived in your organization.
The power of continuous improvement software really comes to the fore when you get your colleagues working on it.
When we designed PDCA Complete, we made sure that you can add anyone in to your team. People outside of your business can be added to your PDCA Complete account, it isn't limited by email domain.
Control over activity
One of the features we didn't like about existing continuous improvement tracking software tools was the freedom that users had to alter records.
I've seen too many projects derailed because someone had accidentally marked a task as complete or changed a date. We've tied this down in PDCA Complete, so that the control is limited to the people assigned the task and the creator of the task. Everyone else can participate but control is maintained.
This is something that you want to think about when evaluating CI software. Do you want it as a 'free for all' or as a controlled process?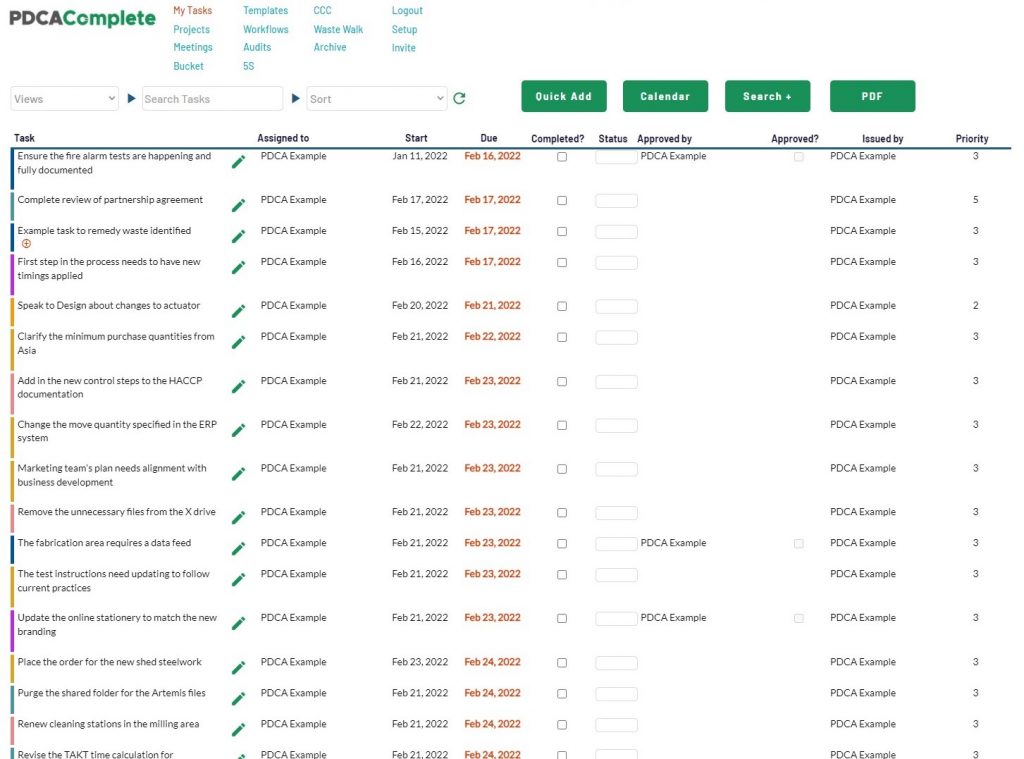 Visibility of task progress
If you can't see how you are getting on, tracking progress is difficult.
Being able to see your tasks, so that you can work on them is part of this factor. We built the My Tasks function of PDCA Complete to help address this. Every task that you are involved with is shown on one page. You can quickly sort by type of task (yours to complete, yours to approve, stakeholder etc…) or filter by date ranges and individuals.
Progress percentages and notes are also included in our system, to help indicate how things are going.
Whatever system you go for, tasks being visible is critical to making progress. We've come from an era that had separate improvement action plans and they were a nightmare to managed…
Traceability of task history
Linked to the previous point, knowing what you have achieved so far is key to making real progress.
Too many of the online improvement tracking software options have nice and tidy interfaces, at the expense of hiding completed tasks.
Robert and I have sat in too many meetings where we've needed to clarify if a task has been completed, or not. The tasks often had been ticked off prematurely, their online system that had been used had been for tracking tucking the task away in the archive. We had to dig through the archive to see the task… we avoided this in PDCA Complete.
The completed tasks can be removed from the view with one click. But, if you need a quick look to confirm that the task was asked and what happened, it is there for you. That leads me to one of our key features…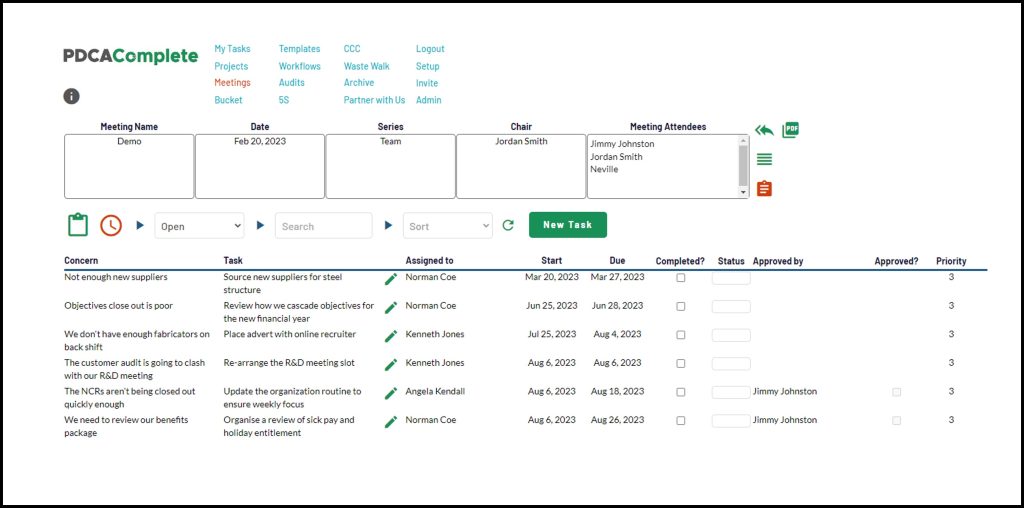 Task approval
Control the sign off of tasks with an approval function. As I mentioned in the last point, many people have a tendency to declare a task is done when it isn't.
In many continuous improvement tracking software tools, this can be done too easily. We made a conscious decision when we first built PDCA Complete, that if you choose a task approver it becomes a two step operation.
This isn't compulsory for every task, however. If you feel the task is critical, or the person being assigned the tasks is a little too eager to close tasks down, then you can apply it.
When you are reviewing software of this nature, please consider this point.
Look for the other features
Each software platform you look at will have something different on offer. For example, when we built PDCA Complete we were fed up with the lack of project definition you can achieve on many other CI systems. For this reason, we made sure that the Project Initiation Document (PID) approach was integral with PDCA Complete.
Another feature we added was our prioritization system. Quickly ranking your improvement opportunities based on Benefit, Cost and Speed (BCS) is a fast and effective way to ensure you are spending your time on the best uses of your time.
We've got loads of other distinctive features but that isn't the focus of the article. You can check them out here if you want to learn more.
Claim your free account
I hope this article has given you some food for thought when it comes to researching and evaluating continuous improvement tracking software.
To help you with your evaluation, we offer a free subscription level. You can claim it here and it will allow you and two colleagues to use the majority of the system.
If you need additional users, or want the additional features, you can learn more on our pricing page.