You know how it goes. You pat yourselves on the back as your latest improvement project comes to an end. The team have done a good job and you can sense the positive change in the business.
So, what next?
Some organizations struggle with this. They sigh a breath of relief and then aren't really sure what to do next. Other organizations pick up their next project based on nothing more than memory. What they can remember becomes the next project, not necessarily the most important.
Enter the bucket
At PDCA Complete we were conscious of this issue. There can be too many projects listed in your online to do list. There can be clutter in your continuous improvements project folder on your server.
There can be too much going on full stop.
This situation can be overwhelming and cause a sense of losing. If it gets too much, the whole improvement approach can fall over. This is something that we want you to avoid.
The Bucket module in PDCA Complete is the 'bucket list' idea for business. Enter the potential projects, the opportunities, you have for your organization. Score them, rank them and know which one is the best to undertake next.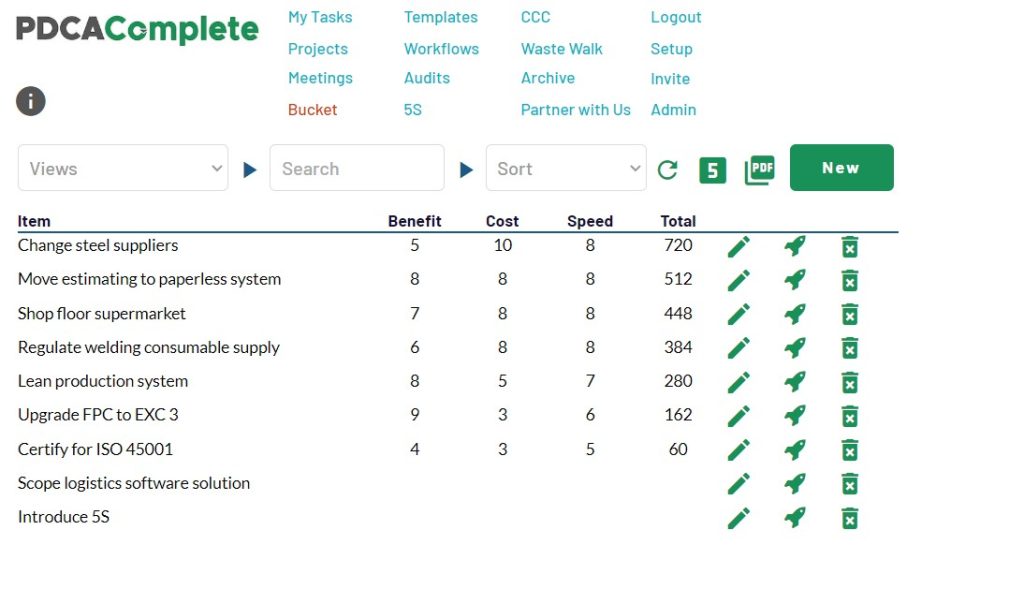 Scoring the best opportunity
We built in our BCS (Benefit, Cost and Speed) scoring approach into PDCA Complete. With a few clicks, you can score each of your potential improvement projects. The screen ranks your improvement opportunities, no more guesswork.
If you haven't heard of the BCS scoring system, it is something we designed a few years ago. When we built the Streamliner software, it was key to determining where the team should focus. Ultimately, it focuses your mind on improvements that are:
Going to make a significant positive shift in your business
Low cost to implement
Fast to deploy
This approach takes the confusion out of project selection. It should make your organization more effective as it delivers change. You should get the 'biggest bang for your buck' with this approach.
Making it a team affair
When you set up your team permission structure, you can see your colleagues' bucket list too. This means that everyone can chip in their ideas and rank them.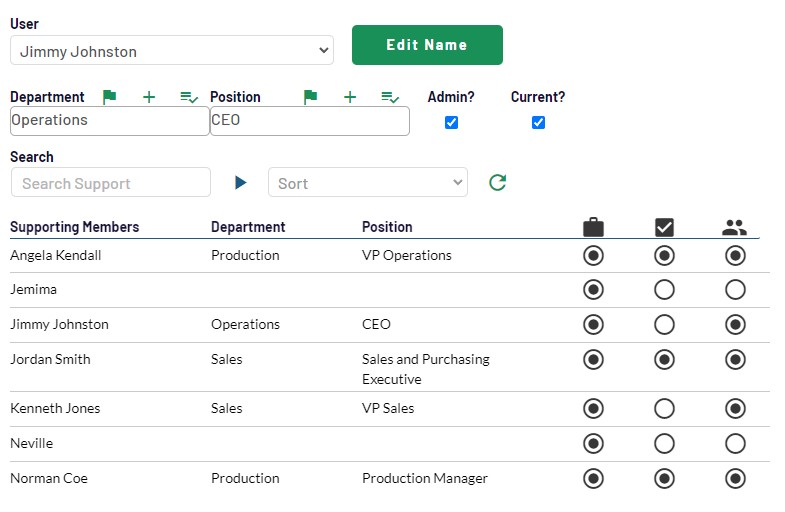 During a continuous improvement meeting (for example), you can put the bucket up on the screen. Click on the filters and you can see all opportunities, ranked by importance (BCS).

Including this item at the end of your formal meetings keeps improvements flowing. You are always working on the best improvement for the organization.
This is how simple it can be.
In PDCA Complete, the Bucket allows you to launch your improvement in a few different ways. In short, you can push the item into one of the other modules, including:
Repeating this process, through a formal routine meeting makes this sustainable.
Free account
If you are new to PDCA Complete, you can claim your free account today.
The free account is for three team members and gives you access to the majority of features. For those of you needing more than three team members, you can move to a paid subscription when you are ready.
You can view the features of each option on our pricing page.