One of the most challenging elements of 5S is the sustain phase. Many organizations find themselves going through steps one to three, stuck in a loop. Digital 5S audits is a great way to bust loose from this predicament.
For those of you unfamiliar with the five steps of 5S:
Sort – throw away the junk from the working area.
Set in order – optimize the layout and organization of the area's remaining items.
Shine – clean the working area.
Standards – set the standards to be maintained in the working area.
Sustain – keep the gains.
One of the common methods to sustain a 5S deployment is via auditing. We've built auditing into PDCA Complete and you read an article about using our 5S auditing tools here. What I want to focus on in this article, however, is what you can do with the audit once it has been completed.
Know the score
We've built a scoring system into our digital 5S audits. Every time you capture a finding during your audit, the score is automatically calculated. You can see this on the main 5S audits page and use it to identify which areas need more support.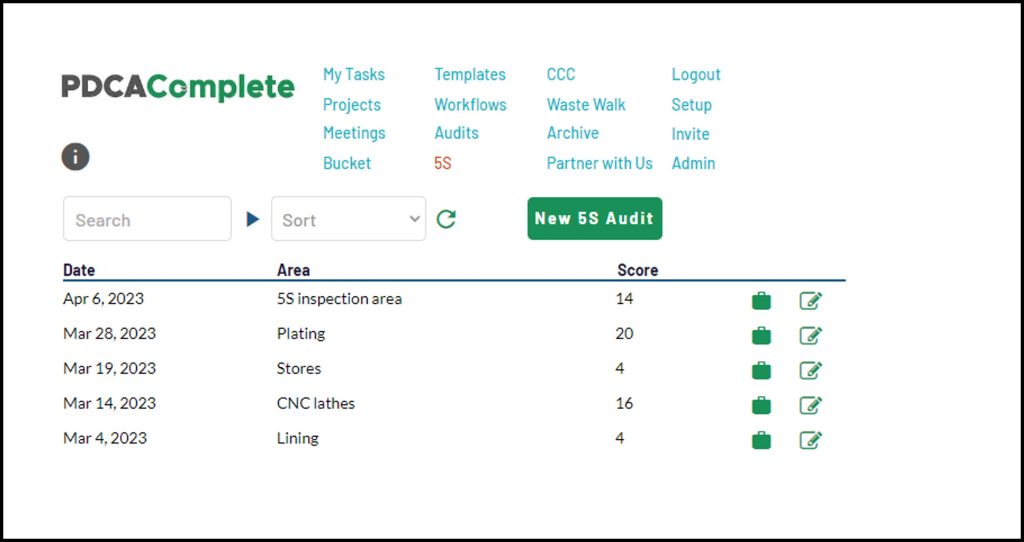 What are you going to do about it?
Getting a 5S score for a working area is one thing, but what are you going to do about it?
At the end of each finding you have the opportunity to add an action. These actions are automatically fed through to the My Tasks module but can also be managed via the 5S register itself.
Click on the briefcase icon next to the audit you want to review and the actions will appear at the top of the screen.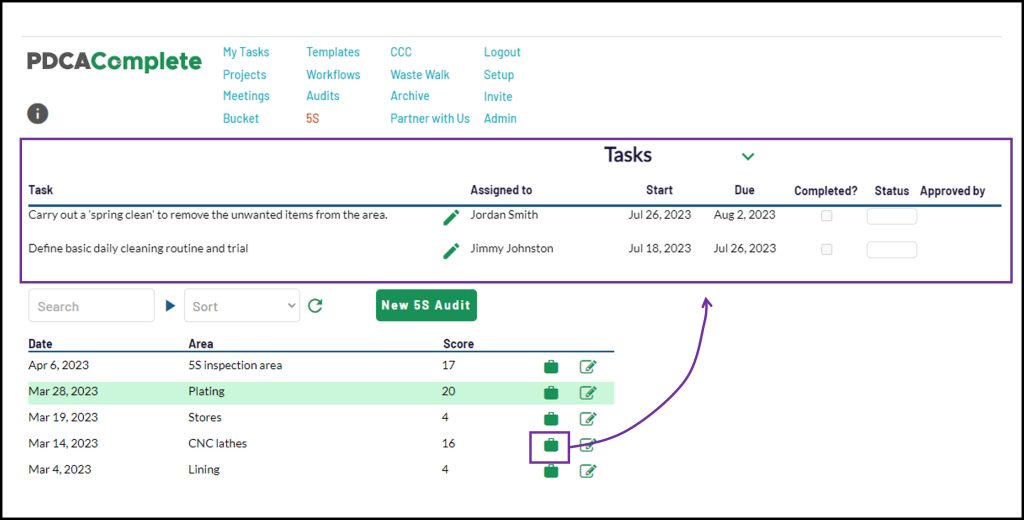 During your continuous improvement meetings (or wherever you discuss 5S) you can quickly click on the briefcase icon and review the activities against the previous 5S audits. The 5S audit also has a specific colour code and type against it, so you can filter for these tasks on the My Tasks screen. These are highlighted by the purple box in the image below.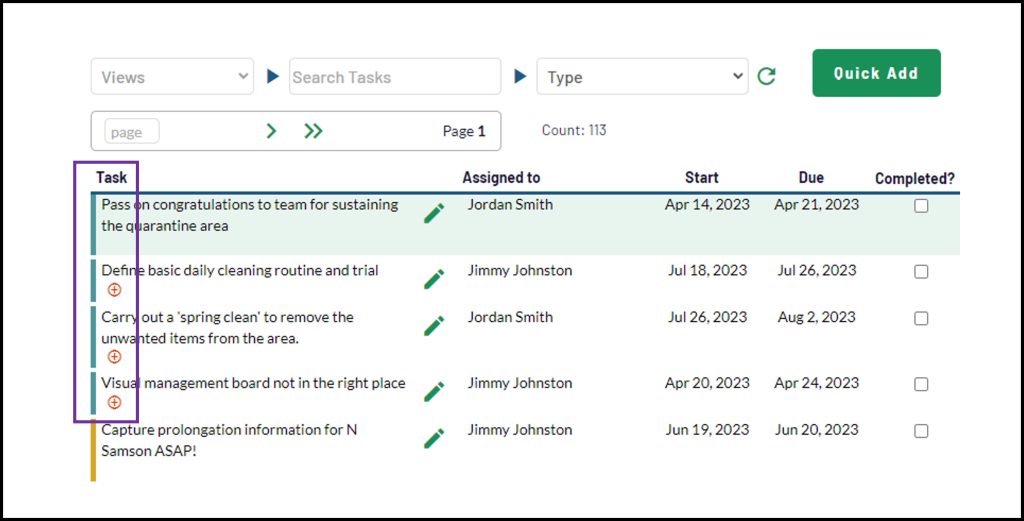 Improving your business with digital 5S audits
I hope this article has shown you the effective digital 5S audits feature we have in PDCA Complete.
If you haven't already claimed your free account, you can do so by clicking here.
The free account will give you access to the 5S auditing tool as well as the other tools. You can see the difference between a free account and a paid subscription on our pricing page.
To learn more about all the features PDCA Complete has to offer, check out the features page. We've built PDCA Complete to help anyone that wants a better grip over their process management and continuous improvement projects.
5S is a fabulous system to develop better, safer and more efficient working practices. It is a brilliant way to move into a wider Lean approach and one that PDCA Complete can help you with.