Last week, one of our customers was undertaking an Achilles audit. For those of you not familiar with the term, an Achilles audit is a requirement for working in many utility sectors.
During the audit, their auditor asked about their regular production meetings. The actions they were discussing we key to the audit and they needed to provide evidence. Luckily, as they use PDCA Complete (a web based task management system), and have used it to document the last few production meetings, evidence was at hand.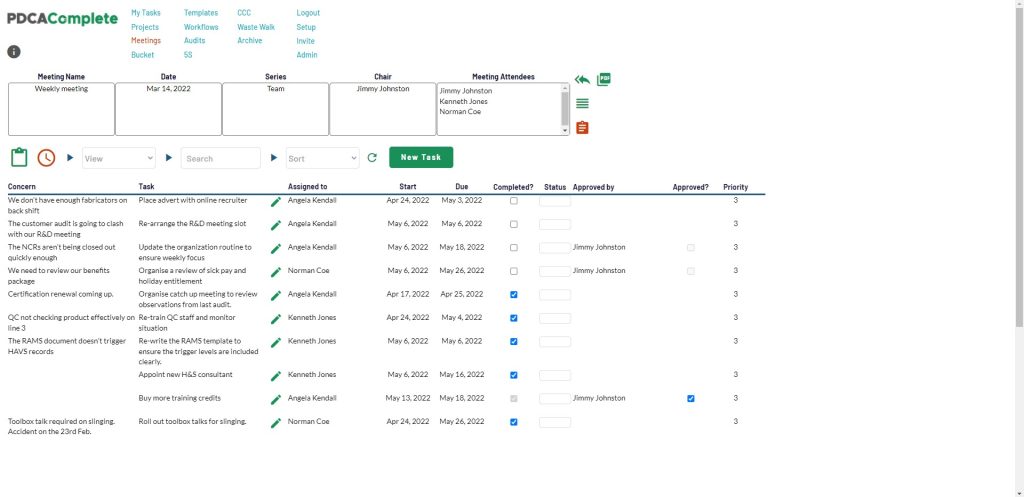 The auditor wanted to see that actions were being recorded and that they were being closed out. With just a couple of clicks, our customer was able to provide this information.
If you are wondering how they did it, they:
Opened up the meetings module.
Clicked onto the meeting itself.
Clicked onto the 'show series' button.
Printed the PDF for evidence.
This was a big tick in the box for the audit and the auditor commented on how efficiently the system worked!
To give you a better idea of how the meetings module works, please view the video below.
Web based task management system?
If you haven't come across this term before, let me explain. PDCA Complete is cloud based, so there is nothing to install. We deal with all of the updates and you can focus on running your business effectively and efficiently.
Tasks flow into PDCA Complete from a range of sources; projects, meetings, audits, digitized workflows, recurring tasks and ad-hoc tasks. All of your users get a different experience – they see only what they are meant to see.
So, PDCA Complete allows you to capture all of the tasks, the loose ends and give you, as a manager, a level of control that might be missing today. A good web based task management system is worth its weight in gold. We have a payback calculator that you can use here, to help you get a feel for how it can help your organization.
Sign up for a free account today
We offer a free account to every organization, for up to three members. If you want to get the most out of our system, then you can upgrade your account. Getting everyone in your team into PDCA Complete means that you can take advantage of our effective task management system, and capture records such as meetings.
There is lots more to the system, to find out more, check out the features page.
But, if you are ready to get started, then click here and secure your free account.