One of our users got in touch last week and asked if they could use PDCA Complete with an external software provider.
The short answer was "yes!".
When you build web based task management software, that's one of the benefits. You aren't limited by geography. PDCA Complete is also able to handle privileges easily, so you can safely invite people outside of your organization without fear that they will see things that they shouldn't.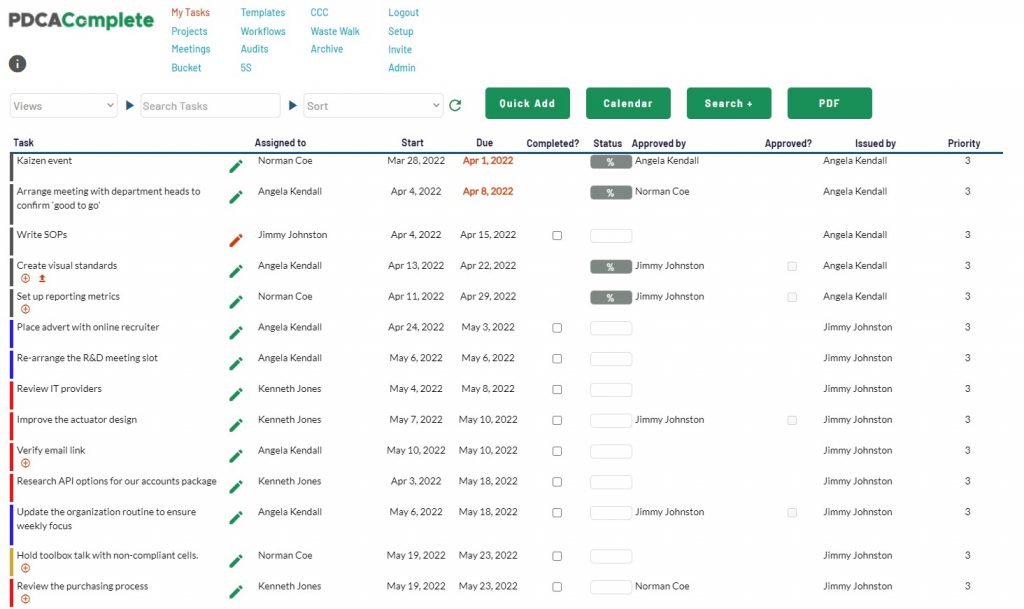 Our user wanted to invite their software supplier in, so that they could organize all of their snags in one place. So, they invited the external user into their account but didn't provide them with any privileges. Each of their team members could assign tasks to the external user and all they could do is complete tasks.
They created a project, created the tasks and assigned them to the external user.
The software company could only see their tasks via the My Tasks screen. Our primary users could see everything, keeping control on who had raised what issue and what the progress was.
During the weekly team meeting, this user can hold a meeting, using a standard agenda, and review progress of the tasks. They can add meeting notes, which automatically ping the external user. The reviews are fast to carry out, as they can toggle their view to see only the outstanding tasks. New tasks can be added on the fly, making this a very efficient process.
Being able to manage your tasks, and deciding who can see what records inside the system, is vital for effective management. In this case our primary users were in control but had the benefit of allowing an external user in for the purposes of their project. After the project is concluded they can release the user from the system, preventing them from accessing the system.
If you have been curious about the benefits of a web based task management software solution, then I hope this example has given you a good example.