One of the reasons that we built PDCA Complete was to speed up team meetings.
This includes:
Reducing the time taken to capture the meeting's decisions and actions.
Not having to spend time distributing minutes afterwards.
Allowing multiple people to capture notes and actions at once.
Being able to review previous actions in a very simple way.
If you are like us, you'll know that waiting days, or weeks, to get hold of the actions from a meeting doesn't help when it comes to making things happen fast. We hope that you'll find that our approach to capturing meeting actions and taking action will help you to improve as a business.
To help you get the most from our meetings module, let me share with you a few ideas to speed up your meetings and get the most out of them.
Use the decision and action format
We've structured the inputs to the meeting records to align with the ISO management systems approach. We want you to capture the decision reached and the action agreed. You can just capture the action and assign it but, for trickier issues, you can capture it in two stages.
Writing down the issue at hand, or the point you have agreed upon allows you to think clearly and specifically about the action you want to undertake. My recommendation here is that if you have a tricky action to review, use the 'concern' field to define the problem and then define an action. Do it in two distinct steps.
For actions that are more straightforward, feel free to input the action without additional information.
Use the standard agenda
The standard agenda function is designed to keep you on track and stop you having to remember all of the items you want to cover in your meetings. There are often review items that you want to check on but not necessarily have to do anything with each time. Not writing these items down on a standard agenda means that you have to remember them.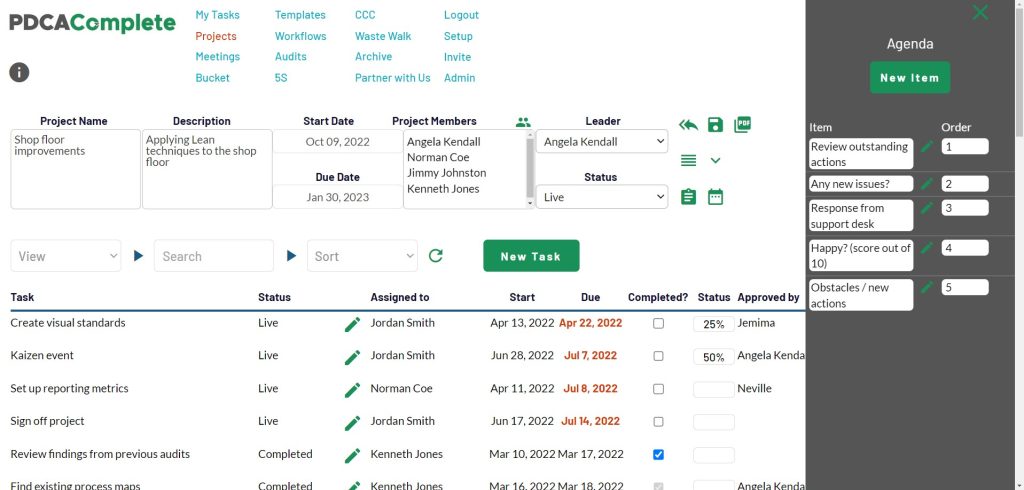 The whole point of using a system like PDCA Complete is that you don't have to use your memory! Save your precious brain power for the things that count, not remembering an agenda for a meeting.
Flush personal actions
At the centre of PDCA Complete is the My Tasks module. This is the nerve centre for our system; every task that relates to you appears in here. This includes tasks that are assigned to you, tasks you have assigned to others and tasks that you need to approve and sign off. If you have a team assigned to you, you can also see their tasks.
With regards to a meeting, I recommend that you ask your meeting attendees to have a quick flush through their My Tasks page. This will help address previous meeting actions, as well as anything else that is on their list. This is a particularly good strategy to help new users form the habit of using PDCA Complete regularly.
To keep meetings running smoothly, I encourage attendees to use PDCA Complete on their mobile device. It doesn't break the flow of the meeting and takes just a few minutes to bring everyone up to date. Any particular information that needs to be shared verbally with the group can be done so, otherwise the team can update their own actions. The actions do not disappear, they still remain in the meeting record as completed items.
Review the previous meeting's actions
If your meeting is one of a series of meetings (e.g. quality management, continuous improvement, production etc…) then you can create a meeting series 'tag'. Assigning this tag to your meeting record means that you can look at all of the outstanding actions from that series with two clicks of the mouse.
Before you start adding new actions to your new meeting record, you can bring up all of the previous actions and then filter for live actions. This allows you to have a very quick run down of all of the outstanding actions, before you start to address new items during the meeting.
This is a very powerful tool and one that I recommend that you explore.
Take a team input approach
As I said at the outset, you can have more than one person inputting tasks into PDCA Complete at once. This is useful when the person that normally inputs the actions into PDCA Complete is in the middle of a conversation.
The easiest way to do this, in my opinion, is to use mobile devices. A few people in the meeting can be logged into the meeting record and as new actions are agreed they can be inputted directly. If one of the users has PDCA Complete showing on a large screen in the meeting room, then the other users will see the additional actions after it has been posted by the other user (depending on what filters have been applied to the meeting record, of course).
It might take a little bit of getting used to, having multiple people input the actions, but the speed and effectiveness of doing so is worth the practice to get it right.
Free account
I hope this article has shown you a few ways you can speed up meetings in your organization, as well as making them more effective.
If you are curious and would like to know more, we offer a free account to help you start your journey with PDCA Complete. The free account is for three users and includes most of the functionality of the entire system. You can find out more here, and learn about costs should you want to expand PDCA Complete across your organization.
Also, we have a meeting cost calculator on the pricing page. You can quantify what the cost of inefficient meetings are costing your organization, helping you to build a business case to find tools to improve the situation.
Meetings can be great things, if they drive action and decision making. I wish you the best with your meetings.