One of the features that makes me proud of PDCA Complete is the Bucket function.
Too many times I see organizations that bite off more than they can chew. This causes problems to appear, including:
Frustration
Nothing being delivered (projects / production / services) to the right standard
Lowering of morale
Confusion
I've been there. It is too tempting to try and do everything at once.
Using 'Benefit, Cost and Speed' to rank projects
So, when it comes to developing an online tool to help with business management and continuous improvement, what do you do?
Years ago, Robert and I developed PDCA Complete's predecessor, Streamliner. A key part of that software was an improvement evaluation tool which we called BCS. BCS is an acronym that stands for Benefits, Costs and Speed.
The concept is that you can evaluate all of your opportunities using these three factors and rank them. High ranking improvements were:
hugely beneficial to the business (game changers),
low cost (just a bit of time and thinking),
fast to implement (give me a couple of hours this afternoon!).
Using the Bucket system to regulate project workload
This system worked so well we wanted to make sure that it became a key function in PDCA Complete. On the menu (see below), you can see it on the left hand side of the menu.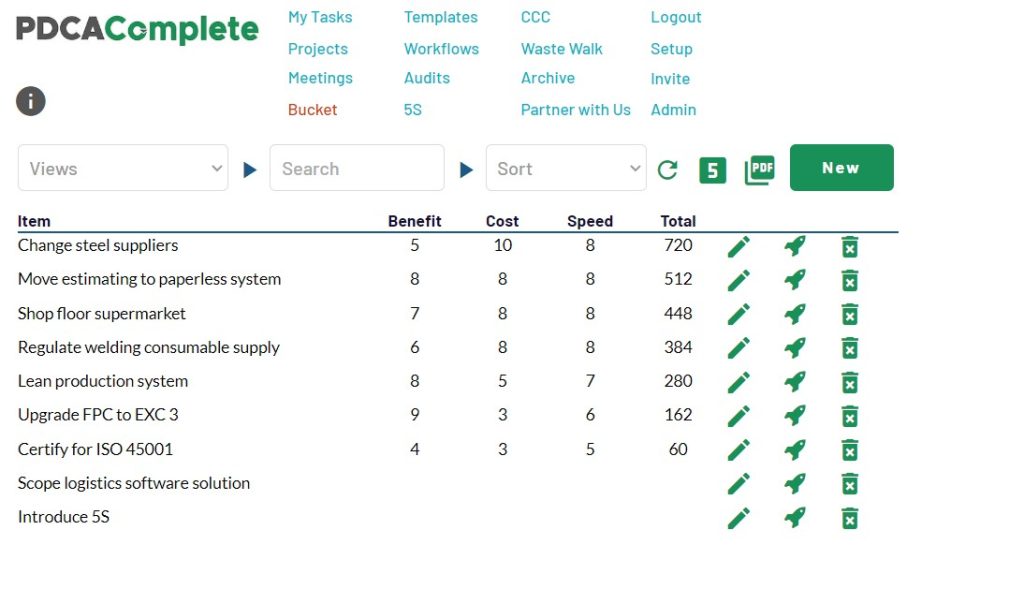 The way you use it is to dump your improvement / business project ideas into the Bucket section of PDCA Complete before you do anything. When you come to a time to review the capacity of your organization, to determine if you can handle another project, you review the Bucket.
If you have capacity, you can then choose how you launch the opportunity. It can be a single task, a repeating task, a project, a meeting series, a digital workflow or an audit.
The key point is that when you are ready to handle another project, you can pick the one that will give you the best returns for time, effort and money.
Claim your free account today
The Bucket feature is included in our free subscription, so you can use it today if you are facing this dilemma. To claim your free account, click here. You can invite two colleagues as part of the free subscription and you can always upgrade to a paid account when you want the wider team to join you.
BCS has been a fantastic tool for our consulting clients. We hope it will be a fantastic tool for your organization too.