You can't hit a target you can't see.
You've heard this phrase before… but in the main it's true.
Being able to articulate a goal, make it understandable and keep it in sight is a skill. Sharing the goal with your team is the icing on the cake.
Achieving the results, that's what counts. Most businesses have this project KPI as part of the set of metrics. Visibility of your projects is key to driving this measure upwards.
When we set out to build PDCA Complete we wanted to use this mantra to help our clients. There are several ways that our software can help with this challenge, which I will share below.
The prize is this. If you can keep the tasks visible to your team, your rate of improvement will speed up.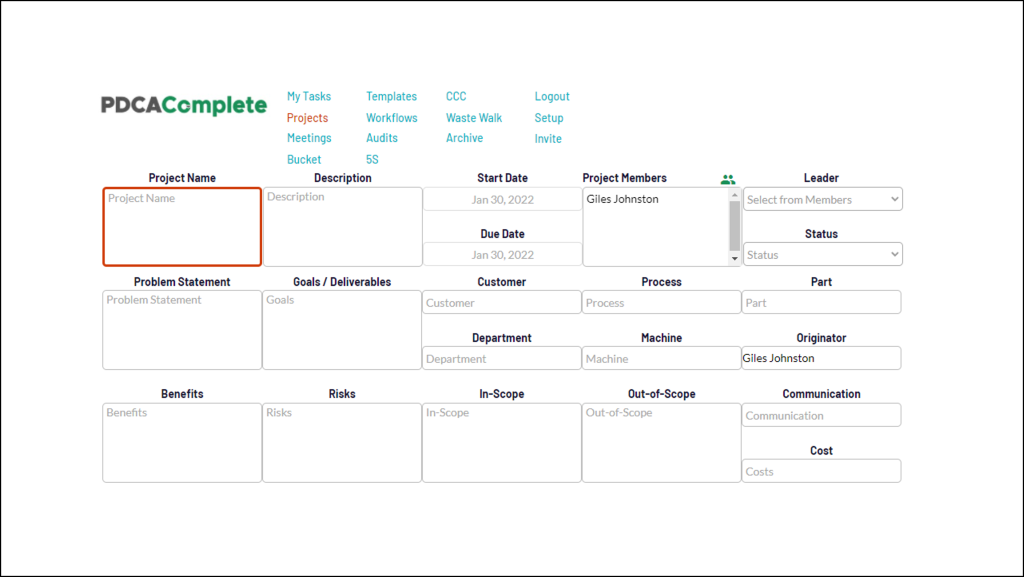 Review the Bucket
The Bucket is a function in PDCA Complete that allows you to see all your queued opportunities. Tagging a review of the Bucket into one of your regular meetings drives change.
The Bucket allows you to rate and rank improvements using our BCS system. As a team, you can establish what is the most important activity to work on next. Doing this as a team helps with the project launch and maintains momentum.
Visible projects
Keeping your projects visible is also essential. PDCA Complete's project screen is easy to filter for live projects. Discussing projects on a regular basis is key to making progress. If you keep talking about the projects then focus will re-direct and this leads to progress.
Do you have a specific project review meeting scheduled in your business? If you don't then it is worth considering. Or, you can tag the review onto the end of an existing routine meeting.
PDCA Complete has a built in standard agenda function that is great for this purpose. Keep you and your team on track with a standard project review agenda.
Project targets
Within the project module is the PID. PID stands for Project Initiation Document and is a great communication tool.
The PID structure helps you to clarify what it is you want achieved. It helps your team to know exactly what you want. Hitting the target is easier if it is visible and precise.
Setting up a PID only takes a few minutes, time well spent if you get what you want. Don't set up projects that don't get you what you need and want. Go for clarity and avoid haste.
Big screen and little screen
Having easy access to projects is critical, if you want to keep your projects in the forefront. Your targets need to be easy to find and see, so PDCA Complete is available on all screen sizes.
The desktop (or laptop) is most people's 'go to'. Closing out tasks and updating projects from your desk is where a lot of the action happens.
In a meeting, chuck PDCA Complete up onto the large TV in the meeting room. If you have a wall mounted TV in your office you can have the live projects list visible at all times.
When you are on the move, our mobile version is there for you. Your projects are available on your smartphone, to update when needed. Access to your projects and tasks is not tied to a single device type.
Filtering the data
The main screen in PDCA Complete is the My Tasks screen. This page allows you to see all the tasks you associate with. Some are your tasks to complete, others are your team's. Stakeholder involvement is viewable, as are the tasks that you need to approve.
Having your projects in your mind more often improves project close out. Having the corresponding tasks at your finger tips is as important. The My Tasks screen has many sort and view filter options. Being clear about what you need to work on next has never been easier.
Starting your working day with My Tasks is effective for prioritization. Decide what tasks you need to tackle first and keeping plugging away at that list. That's how you drive up your project KPI score.
Project KPI – Hit that target
I hope this article has given you some ideas on how you can progress your projects faster. In summary, keep them visible, clarify the goals and work on the tasks with consistency.
If you haven't signed up for PDCA Complete yet then take advantage of our free account. The free account is for up to three users and you can upgrade at any time. You can find out more here.
Driving up the rate and speed of deploying successful projects is what we focus on at PDCA Complete. Good luck with your projects (and accelerating their rate of deployment).