When we built PDCA Complete we wanted to let people try it before they subscribe. This is why we made a free version, which you can access here.
If you haven't looked around our website yet, PDCA Complete is a unique task and project management system. On top of projects and ad-hoc task management it includes:
Meetings – track your decisions and actions agreed
Audits – capture findings and evidence all in one place
Process workflows – digitize your physical business processes
Waste walking – identify Lean improvement opportunities
5S reviews – improve workplace organization
Template tasks – save time making detailed requests from your team
Bucket – capture and prioritize improvement opportunities
At the core of PDCA Complete is the My Tasks feature. This allows you to see every task in your organization that you're linked with. These could be the tasks that you:
need to complete
have issued to others
are required to approve
are a stakeholder for
may oversee as a line manager
This approach keeps your finger on the pulse with your team. The search functions allow you to see exactly what needs to happen and what is outstanding. Our visual badges speed up the process of knowing what you need to review.
But, what is free online task management software?
Is it really free? Yes!
Does it have some limitations? Yes, some of the functionality isn't available with the free version. For example, file attachments and PDF printing aren't available with the free account. The main difference is the number of users you can have in your organization's account. With the free version you can use all the main modules listed above. But, the free account limits you to three members of your organization.
As long as you are actively using our software, and have three or fewer users, PDCA Complete is free. This means that you can record your meetings, manage tasks and use the other features without charge.
Why do we offer it for free?
We want people to try out the software and get a feel for it. If you use PDCA Complete, it can really help to pull together the loose ends of your organization. If you want to (re)gain control of the tasks floating around you, then this is the tool to use.
If PDCA Complete is the right fit, then it will be worth investing in. The cost per user is only a few dollars per month, you should experience a clear payback.
When you get the rest of your team onboard, then that is when the magic really happens!
Communication improves. The need for meetings reduces. Loose ends are no longer loose. Project reviews are swift. Business processes are managed. Audit evidence is kept all in one place.
So, try it out for free and then move to a paid version when you are ready for the rest of your team to join you.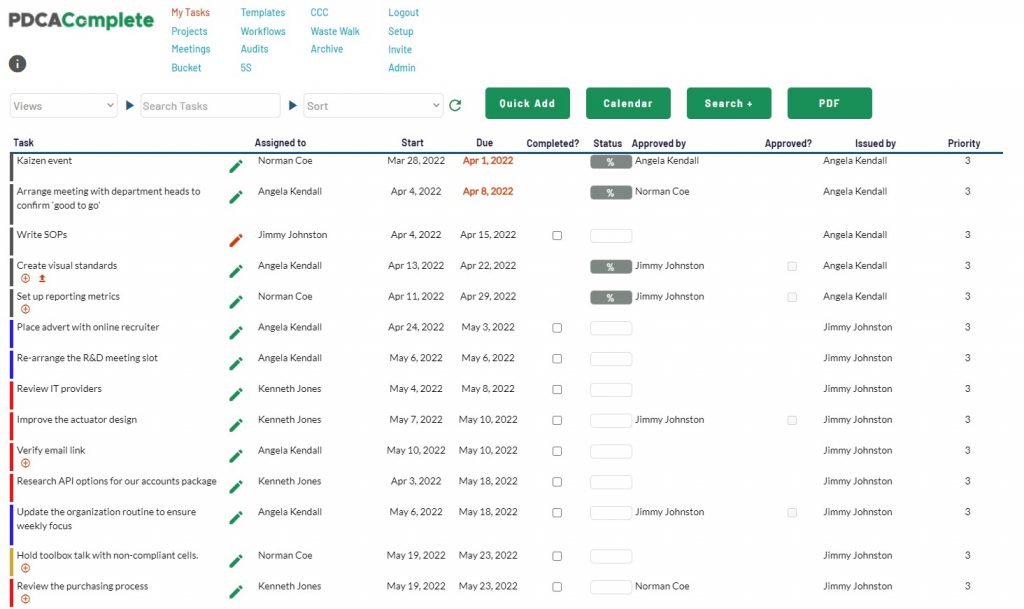 The difference between those that do and those that don't
During my consultancy projects I saw a clear difference regarding task management. There is a gulf between those that use a task management tool and those that don't. You can see it at meetings. Some people write things down, some don't.
It won't surprise you to know that the people that write things down tend to get the tasks done. You'll know who these people are in your own organization.
With PDCA Complete, writing the tasks down can take place in real time. You can amend the tasks that you create and add notes. Before you leave a meeting, for example, you've already produced the minutes. The tasks will already be in the My Tasks screen of each person assigned actions.
With our free online task management software option, this opportunity is available to you today, for no cost! You can start to capture decisions and tasks and keep a record. You can issue these to a few of your colleagues to try out PDCA Complete and see how it works.
When you are ready, you can move to a paid subscription and then invite the rest of your team into the system and then really get the tasks going.
Access your tasks anywhere, from any device
One of the main benefits of making PDCA Complete a cloud app is that you can access it from anywhere, as long as you have an Internet connection.
Currently, My Tasks is the only part of the system that is available on a mobile device. This allows you to add new tasks and update existing tasks on the fly.
We've focused on getting the desktop / tablet experience right first. Just log in to your account and you can manage the heck out of your tasks, projects and audits.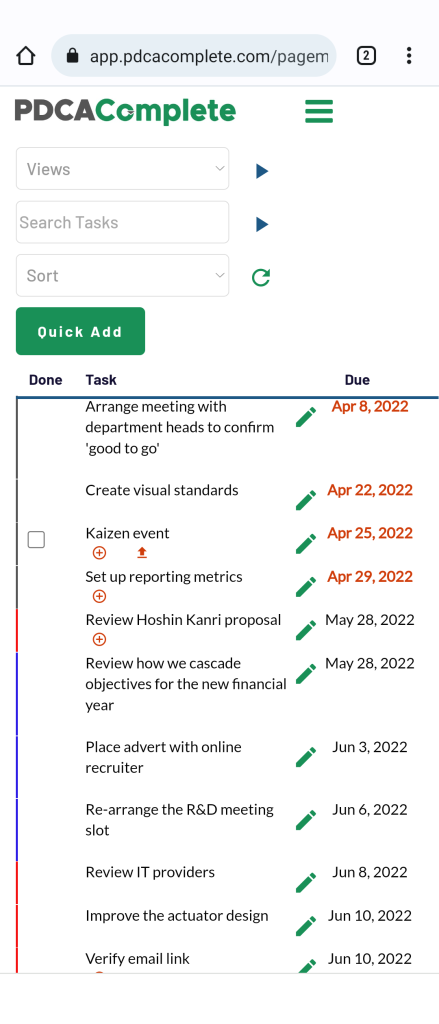 Get started today
If you are looking for a free online task management software tool, then you can get started today.
To sign up for PDCA Complete, head over to our sign up form and enter your name, email address and create a password.
From here you can invite your two colleagues. The invite and setup process is straightforward and we have step by step instructions here.
We hope that you find PDCA Complete useful and that it helps you to get a better grip over your work tasks. Projects sail smoothly once you have a simple way to assign, review and manage their tasks. I could tell you more about all the features of PDCA Complete but, for now, I'll let you peruse the features section of this website!